Posted on February 17th, 2010 by maitreya. Filed under Jewelry.
Trace pattern from piece of origami paper onto shrink plastic with a sharpie and ruler.  Cut out.  Punch hole.  Melt.  Add jump ring.  Pretty necklace!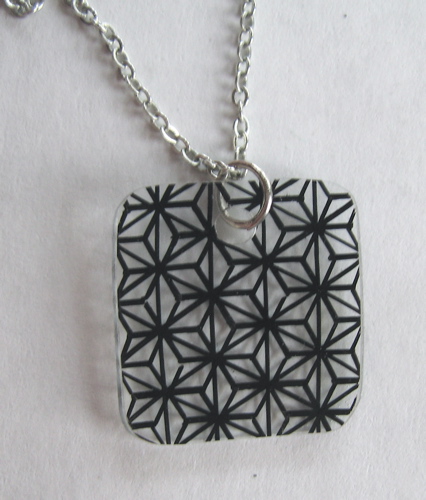 I love how it turned out and I'm currently wearing it with a V-neck.  I think this might be my final excuse for buying one of those geometric pattern coloring books I had as a kid.
3 Responses to "shrinky dink origami pattern necklace"
Miho Says:
March 2nd, 2010 at 4:35 am

What a great idea!

I remember playing with this when I was younger, but something like your necklace is definitely better suited to my taste now.
email
books I'm in
other sites I'm on
Pinterest
Categories
Blogroll
Archives
creative commons