Posted on March 14th, 2010 by maitreya. Filed under Sewing/Fabric Crafts.
I fiiiinally made something with my serger.  It was still threaded with the color-coded spools it came with, so I used the ever-popular rethreading trick of knotting on the new one and pulling it through.  It worked ok, but I had to redo one of them when a knot got stuck and snapped.
Anyway, with it all threaded up and the tension tested, I launched into the easiest project I could think of: a skirt with 2 seams and a hem.  I conveniently used my favorite skirt from orangyporangy as a template. The fabric is a giant thrifted piece of polyester I found a few months ago.  It is a little on the pepto bismol side of pink, but I think that cuts down slightly on the overwhelming pinkness of it, and I really like the gridlines.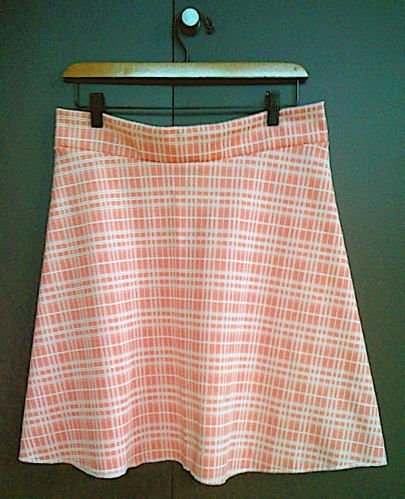 I'm pretty happy with it.  The hem is slightly wavy.  I clearly need more practice with the whole knife thing.  But it's not too noticeable when it's on.  The stretch is very forgiving for the fit, too.
I had a length of waistband left over, so I made a matching headband too. :)
2 Responses to "poly skirt"
email
maitreya[@]craftlog[.]org
books I'm in
Pinterest
This recipe with white beans is probably my favorite farro salad yet. The creamy beans play a huge role in that, along with the sweet tender leeks and fresh parsley. But it's the chunks of salty, citrusy preserved lemon, a condiment often used in Moroccan cooking, that really takes this salad to the next level.
Categories
Blogroll
Archives
creative commons
craftlog is under a
Creative Commons
Attribution Noncommercial
license
. That means that you are all welcome to take and repost my photos, replicate my projects, remix my ideas, whatever you want as long as you give attribution (a link is fine) and it's noncommercial. Thanks!