Posted on April 5th, 2010 by maitreya. Filed under Jewelry.
This is barely a craft, but I did have to drill a hole in the block of wood, so close enough.  New necklaces, one a felt washer I found at the hardware store, and the other a small block of wood from the craft store, strung on waxed linen.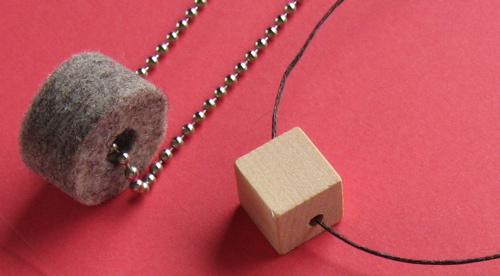 The idea for the wood block one was partly prompted by A Small Collection (e.g. this necklace) and my previous experiments with Dremel+wood jewerly.  I thought about staining it, but I kind of like it au naturale.  Piece of advice for Dremel-ing through a piece this thick: drill ~2/3 through with a big bit, then punch through to the other side with a smaller bit.  Flip over and use the big bit again using the guide from the small bit.  It made it look nice on both sides, and my poor Dremel was unhappy about going more than 2/3 through at a go.
One Response to "necklace bits"
email
books I'm in
other sites I'm on
Pinterest
Categories
Blogroll
Archives
creative commons