Posted on April 11th, 2010 by maitreya. Filed under Sewing/Fabric Crafts.
My friend Becket is having another baby soon, so I've been working on a baby quilt (previous baby quilt+instructions).  The other day she posted this picture of carpet samples for the kids' room redecoration: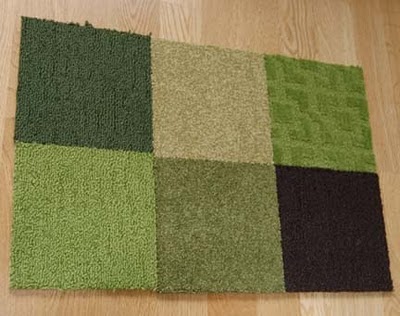 Here's what my crazy brain did: carpet blocks…they look like quilt blocks…a carpet-themed baby quilt!  It would be greens and browns and the squares would all have different textures.  Babies like feeling different textures, right?  And it turns out I have quite a few fabrics that fit this theme.  Some time while I was cutting them into tiny squares, I realized that I was making the Ugliest Baby Quilt Ever.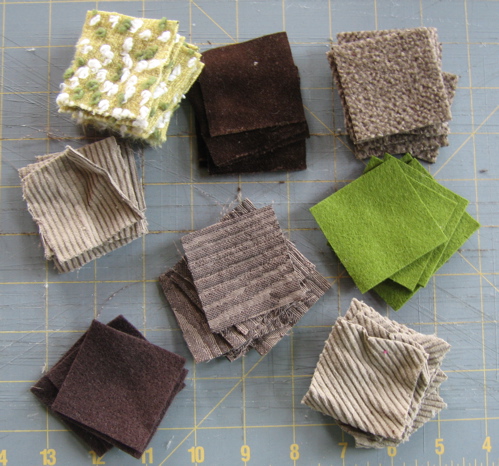 I'm happy to say that the next version is much nicer (and I'll post it once I mail it off).
But the question remains: what to do with these guys?
7 Responses to "ugly quilt near miss"
email
maitreya[@]craftlog[.]org
books I'm in
Pinterest
This recipe with white beans is probably my favorite farro salad yet. The creamy beans play a huge role in that, along with the sweet tender leeks and fresh parsley. But it's the chunks of salty, citrusy preserved lemon, a condiment often used in Moroccan cooking, that really takes this salad to the next level.
Categories
Blogroll
Archives
creative commons
craftlog is under a
Creative Commons
Attribution Noncommercial
license
. That means that you are all welcome to take and repost my photos, replicate my projects, remix my ideas, whatever you want as long as you give attribution (a link is fine) and it's noncommercial. Thanks!