Posted on April 28th, 2010 by maitreya. Filed under Crafty Review.
I was able to get the first wonderful issue of Stitch at a local bookstore (and even made something from it), but I've been unable to find any of the other issues.  I finally just gave in and bought them off their website.  They are pricey, costing more than most books I buy, but after seeing all the posts all over blogland, I think it's worth it.  They just came in the mail and look delicious.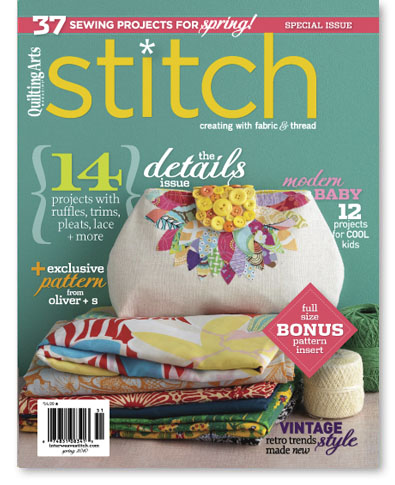 2 Responses to "Stitch backissues"
Becket Says:
April 29th, 2010 at 10:30 pm

Ok – this is weird!!
I just saw a post about this mag not to long ago on a site (I can't remember which) – then tried to find it at my local bookstore without luck. Then, I just gave up and recently ordered back issues on the web so that I could read them on maternity leave. Isn't that uncanny??
email
maitreya[@]craftlog[.]org
books I'm in
Pinterest
This week, I'm in Jaipur, India, starting my second teaching stint with Ritchie Ace Camps. Last year's Jaipur experience was amazing (lots of pics here), and I can't wait to meet everyone who is coming on the 2015 version (although I'm going to miss last year's group like mad!). I hadn't used block printing techniques a lot …
Categories
Blogroll
Archives
creative commons
craftlog is under a
Creative Commons
Attribution Noncommercial
license
. That means that you are all welcome to take and repost my photos, replicate my projects, remix my ideas, whatever you want as long as you give attribution (a link is fine) and it's noncommercial. Thanks!