Posted on May 7th, 2010 by maitreya. Filed under Sewing/Fabric Crafts, Toys (cat and kid).
My ~27 lb monster cat, El Chupacabra, likes to hang out on the bench by the window and get all agitated watching the birds in the yard.  I'd inadvertently left Becket's new baby quilt there after a photoshoot and he seemed to really like laying on it.  Since I made my other cat, Beckett (yes, I know the names are confusing), a sleeping pillow, it seems only fair that Chupa should get one too.
The fabric is from Urban Outfitters sale rack (see previous bag), plus a little embroidery to liven things up.  It's filled with 3 layers of quilt batting and then tufted with tied embroidery thread.
Astonishingly, he seems to like it!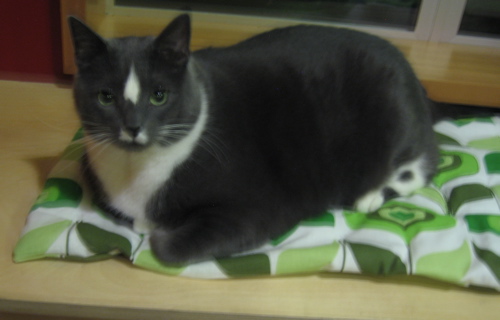 One Response to "fatcat pillow"
email
maitreya[@]craftlog[.]org
books I'm in
Pinterest
Categories
Blogroll
Archives
creative commons
craftlog is under a
Creative Commons
Attribution Noncommercial
license
. That means that you are all welcome to take and repost my photos, replicate my projects, remix my ideas, whatever you want as long as you give attribution (a link is fine) and it's noncommercial. Thanks!