Posted on June 24th, 2010 by maitreya. Filed under Home and Garden.
Beets!
I decided not to eat the greens on these guys since they are still riddled with leaf miner tracks, which is a shame since they look so tasty.  I might get over my squeamishness and just trim the good parts from the next batch.  The golden one I pulled a couple of days ago and left on the sidewalk, where it became mushy :(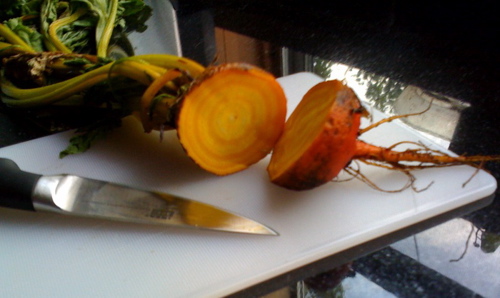 I cut it open to make sure it wasn't bugs, and look how lovely it is inside.  I'm not making the same mistake with the 2 red beets; they are boiling away right now.
Also pulled my first bulb of fennel.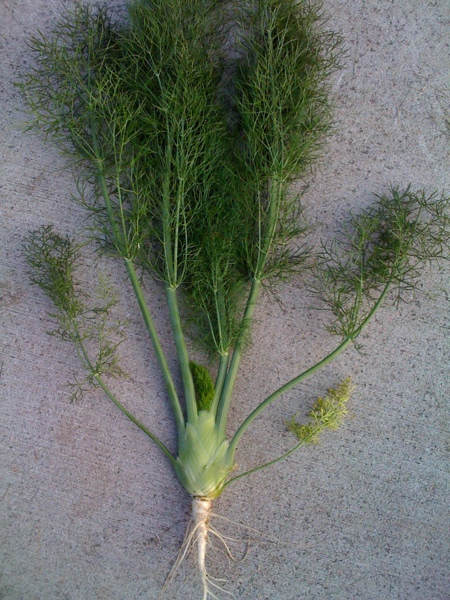 So pretty!  I sliced up the bulb and just ate the entire thing raw from the cutting board.  Yum!  The outside stalks taste more like celery, the very inside was too tough, and in between was a perfect ring that tasted like candy.  So good.  I have like 7 more bulbs, too.  I'm going to let at least one of them go to seed to see what happens.  That's been my strategy for all of my plants.  My mustard spinach bolted earlier this week, so I picked off all the leaves and used them in a lentil soup and then let the big yellow flowers hang out in the garden while I decide what to plant in its place.
2 Responses to "first beets and fennel"
LeeAnn Says:
June 26th, 2010 at 5:01 pm

I picked my first beets this week. I planted the golden beets to try something new this year. I picked 2 bulbs about three days ago and put them in the fridge. Picked the rest today and was saddened to see the first two turned mushy, just like your experience. My parents were over for lunch and shared they picked red beets and stored them in the fridge for a week and they were still good. So maybe it's the difference in the varieties?

Nancy Says:
July 8th, 2010 at 10:41 pm

what delightful photos! I do love beets in every way, shape, or form. But I've also been surprised how mushy they get–so quickly–if they sit out. Such a shame!
email
maitreya[@]craftlog[.]org
books I'm in
Pinterest
Categories
Blogroll
Archives
creative commons
craftlog is under a
Creative Commons
Attribution Noncommercial
license
. That means that you are all welcome to take and repost my photos, replicate my projects, remix my ideas, whatever you want as long as you give attribution (a link is fine) and it's noncommercial. Thanks!