Posted on September 17th, 2010 by maitreya. Filed under Sewing/Fabric Crafts.
When I do sew lately, it seems I'm making baby things for various expecting friends.  I have two more tops pieced that I can't seem to get around to finishing, so I decided to keep it small for this one.  I have another bad crafting habit of deciding to make something, and then getting stymied picking out fabrics, so I went with a pack of charm squares here.  I've had these squares for a long time, but the old-fashioned style hasn't seem right for anything.  Then I went to the Minnesota State Fair a few weeks ago and got inspired by all the traditional crafts there.
I used Oh, Fransson's tutorial to do the piecing, which I think adds a slightly modern take on the repro-style prints.  I essentially took the stack of 5×5 squares and sliced them into irregular quadrilaterals, yielding 1 or 2 pieces from each.  I like how this design is pieced as you go since I'm also incapable of planning anything up front without taking forever or giving up.
Continuing with the Keep It Simple theme, it's self-bound.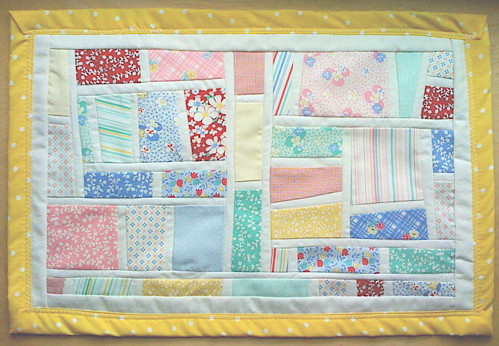 5 Responses to "improvisationally pieced small quilt"
email
maitreya[@]craftlog[.]org
books I'm in
Pinterest
This recipe with white beans is probably my favorite farro salad yet. The creamy beans play a huge role in that, along with the sweet tender leeks and fresh parsley. But it's the chunks of salty, citrusy preserved lemon, a condiment often used in Moroccan cooking, that really takes this salad to the next level.
Categories
Blogroll
Archives
creative commons
craftlog is under a
Creative Commons
Attribution Noncommercial
license
. That means that you are all welcome to take and repost my photos, replicate my projects, remix my ideas, whatever you want as long as you give attribution (a link is fine) and it's noncommercial. Thanks!