Posted on November 18th, 2010 by maitreya. Filed under Martha.
I made these amped up peanut butter cups for a lab treat.  I started with this recipe from Martha Stewart.  While at the grocery store getting supplies, I found these little packets of various nut butters (peanut, almond, and hazelnut, in plain, chocolate, honey, and maple variations), so I got a selection of those too.  Instead of using paper cups, I used a set of chocolate molds that I bought from Martha by Mail waaaay back when.  I don't think I've ever used them until last night, haha.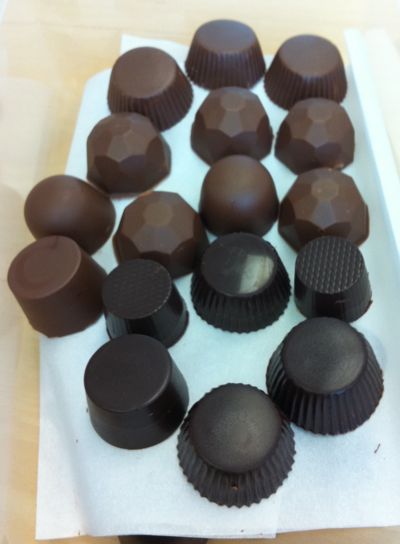 They're astonishingly simple to make.  I melted the chocolate (Valrhona dark and milk chocolate medallions that I found in bulk at Whole Foods) in a metal bowl over hot water.  Spoon a little bit into the bottom of each mold, and coat the walls.  The dark chocolate flowed really smoothly and I just had to tilt the molds to swirl it up the sides.  The milk chocolate was stiffer, for some reason, and I had to use a little butter knife to help encourage the chocolate evenly up the sides.  It's worth making sure the walls are thoroughly coated since I made a few too thin and they broke during unmolding.
Once they've set up (10 minutes in the fridge), I piped the nut butters in.  The Martha filling recipe is way too sweet, in my opinion.  I had to cut it with more peanut butter.  The texture was also too stiff, but that could have been because I used the fresh ground peanuts stuff instead of normal jarred peanut butter.  Adding a little more butter softened it up.  I also added salt.  The little packets were perfect for this step since you just tear off a corner and squeeze it directly in as is.  Spoon more chocolate over the filling, tap to even out, then into the freezer to set up.  I didn't have enough level surface area in the freezer, so I tried a few of them in the fridge, and I really recommend the freezer.  They contracted more so they unmolded better, and the filling solidified a bit, which helped with the structural stability where I had thin walls.
I'm really happy with them.  They look rather professional, if I do say so myself, and they are super delicious.
One Response to "fancy nut butter cups"
email
maitreya[@]craftlog[.]org
books I'm in
Pinterest
Categories
Blogroll
Archives
creative commons
craftlog is under a
Creative Commons
Attribution Noncommercial
license
. That means that you are all welcome to take and repost my photos, replicate my projects, remix my ideas, whatever you want as long as you give attribution (a link is fine) and it's noncommercial. Thanks!