Posted on November 28th, 2010 by maitreya. Filed under Art, Inspiration.
I'm working on an art installation of sorts to cover a giant blank wall in our living room.  The kernel of the idea came from this paper honeycomb window display at Assemble Gallery and Studio.
This is from a while ago.  I'd taken the picture and kind of had it in the back of my mind.  The next little push was from the cover project from the book Quilt It With Wool.
I like the common color scheme, but with the addition of texture.
Then it was hexagons in the honey color scheme everywhere:
header for the Purl Bee

Anthropologie window displays (picture by Calamity Kim)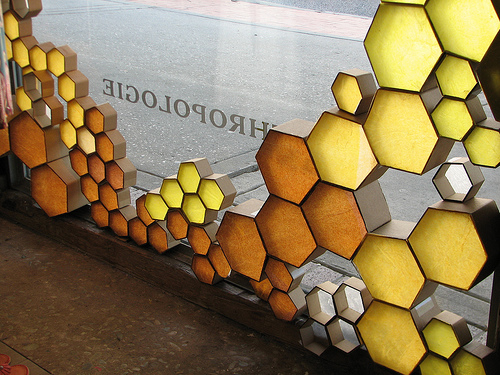 email
books I'm in
other sites I'm on
Pinterest
Categories
Blogroll
Archives
creative commons