Posted on January 18th, 2011 by maitreya. Filed under Crafty Review.
For some reason the local grocery store had a table of used books for a dollar each for charity. I can't resist old craft books and had to get this one: Mary Martin's Needlepoint.  It's a weird hybrid memoir of needlepoint projects, with a few how-to diagrams thrown in at the end.  It's inscribed on the front cover to Marge Phillips, Christmas 1973.
This is my favorite piece.  It's a mix of lace applique, wool crewel, and needlepoint.  The quote is by poet May Sarton from Plant Dreaming Deep, according to the book.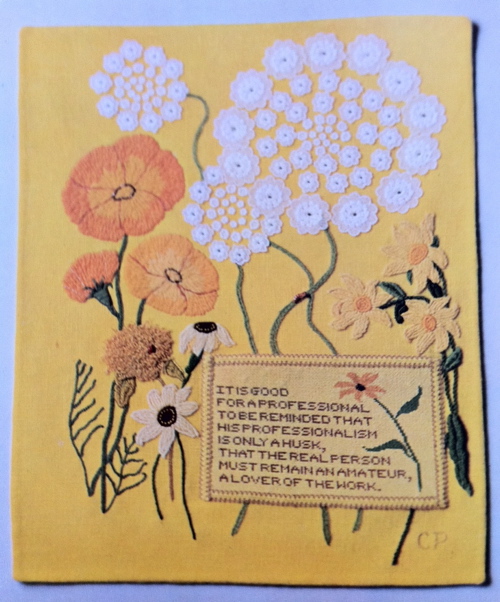 It reminds me of one of my favorite quotes, posted by Eireann a few years ago, "You are entitled to the work, but not to the reward."  Ha, in looking up that old post just now, I noticed that I commented saying I should embroider that on a sampler.  Maybe I should.
email
books I'm in
other sites I'm on
Pinterest
Categories
Blogroll
Archives
creative commons