Posted on January 31st, 2011 by maitreya. Filed under Crochet, Experiments.
This wonderful valentine of sorts by A Foothill Home Companion got me wanting to crochet the edge of something.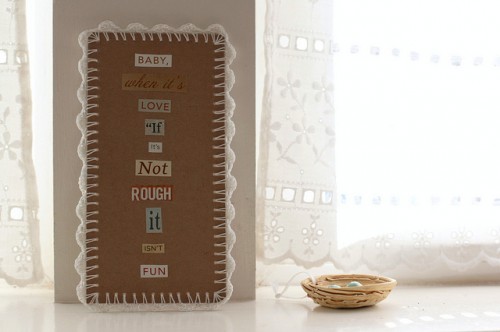 Searching around for ideas also brought up these cute tags from etsy seller sosorosey.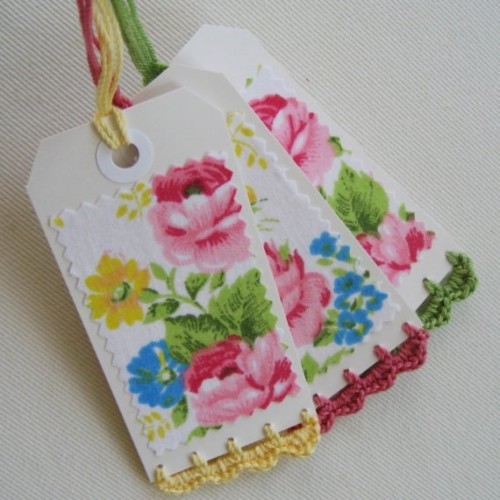 I decided to crochet a frame for a little Jen Corace print I bought a while back.  I don't want to mess it up, so I did a test first on cardstock.  First I tried punching holes with a tiny hole punch, but it looked terrible.  Maybe with bigger yarn it would work.
I ended up using this tutorial for edging pillowcases by You Go Girl.  The key is to blanket stitch around the edge first, through holes I pre-stabbed with a big needle.  I also tried chain-stitching, using a tiny hook to pull the loop through the card and a bigger hook to do the rest, but that was maddening and I had a hard time keeping it all even.
Once I decided on a pattern and a basic approach, I had the bright idea that I could use the test swatch as a bookmark so I should make it pretty by fusing a piece of fabric to the cardstock.  This also conveniently covered up my measurement marks to guide the hole-punching.  They're punched a quarter inch from the edge, a half inch apart, which actually works quite well with the pattern.  I used plain cotton 6 strand embroidery thread, and a 2.35 mm hook.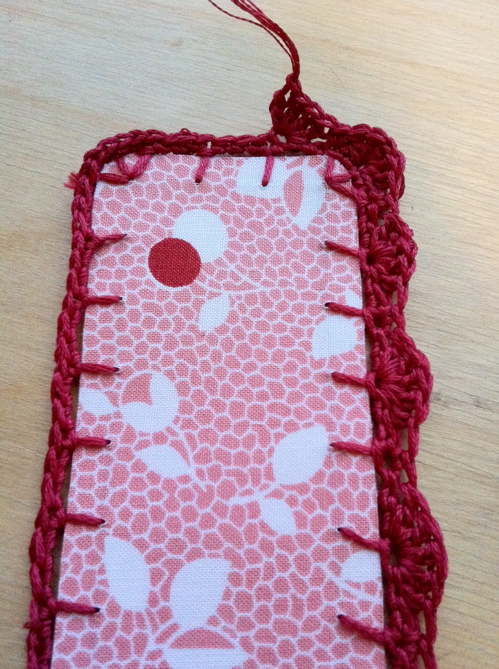 OK, not bad, but a few things went wrong here.  Miscalculation #1 is that I always forget how much thread crochet uses, so I ran out.  Miscalculation #2 is the blanket stitch "stems" go a little too far into the interior for my taste, which serves to emphasize how uneven they are.  I think the paper would be plenty strong to go just 1/8 inch from the edge.  Miscalculation #3, the corners.  The way the waves work, every other hole is worked as a shell, alternating with single crochets.  I also used the shell to turn the corner.  That means there needs to be an odd number of spaces between corners.  Whoops.  I also should have thrown in a couple of chains to help it lay flat around the corner.
So the bookmark didn't work, but it was a good learning experience and I can tell it will eventually work.  I think I may play with some other borders before I hit the real thing.
3 Responses to "crochet edging on paper experiment"
robynlicious Says:
January 31st, 2011 at 11:59 am

It looks like you only did 5 dc in the corner. To get the corner shell to lay flat, you could add more double crochets than you used in the shells worked along the sides. Generally to turn a corner in single crochet, you want an additional 3 stitches. I can't remember if it's still 3 for double crochet, or if it's 5 since the stitch is taller.

Ashley Says:
January 31st, 2011 at 2:49 pm

CUTE CUTE CUTE ideas- super inspirational! I am working on building some inventory and designs for an Etsy store to open soon, and have been toying with ideas to integrate my crochet into the packaging…this would be a perfect way to do so!!
email
maitreya[@]craftlog[.]org
books I'm in
Pinterest
Categories
Blogroll
Archives
creative commons
craftlog is under a
Creative Commons
Attribution Noncommercial
license
. That means that you are all welcome to take and repost my photos, replicate my projects, remix my ideas, whatever you want as long as you give attribution (a link is fine) and it's noncommercial. Thanks!