Posted on February 19th, 2011 by maitreya. Filed under Chickens.
Eggwatch 2011 is in full swing.  Lester won, laying the first egg this morning.  I just happened to be cleaning their coop when I noticed she was sitting in the back and making a new clucking sound.  The last few days, she's been crouching when I come near, which looks like a mating behavior, so I thought her time must be close.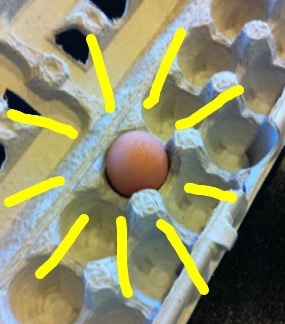 I probably seem crazy to any of my neighbors who might have been watching.  As soon as Lester got up and looked at her creation, I said LESTER YOU DID IT!  Then Hester saw the egg and of course started pecking it.  I said NO THAT'S MY EGG and grabbed it away.  It was warm, and is a pretty good size.  I've read that they'll get bigger.
Who will be next?  Will Hester step up, or will Sue come in from behind?
4 Responses to "Lester laid an egg!"
email
books I'm in
other sites I'm on
Pinterest
Categories
Blogroll
Archives
creative commons