Posted on March 4th, 2011 by maitreya. Filed under Crafty Review, Experiments.
Home sick for two days and working my way through the backlog on the Tivo since I dispatched all my Law and Order reruns yesterday.  I found a cache of Knit and Crochet Today episodes from January that I had never gotten around to watching.  One was on using flower looms (to make a truly hideous scarf).  It reminded me that I got a set of looms at a garage sale last year and never gave it a try (typical).
Cathy of California also has a good tutorial.
The first one, using hemp string and a small loom, came out way too country-cute for my taste.  This is not helped by the button, but I needed to cover up my uneven stitches holding everything together.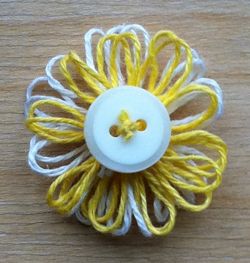 The second one, of kitchen twine and thread on a large loom with a small inner ring of pegs, is a little more interesting.  But still very very home ec.
Oh well.  They are quick to do at least.
One Response to "loom flowers"
futuregirl Says:
March 5th, 2011 at 2:25 am

Sorry to hear you are/were sick. :( boo. Came here looking for the correct missspelling of awesome (osum seems too short) so I can tweet something. I think I'm running on fumes because I know, in the back of my brain, I'm sort of rambling, but I can't stop myself. By the end of the work week, I'm pretty much fried. :)

Um, all of that to get to this: I've been seeing lots of fiber-based flowers with clumps of beads in the center, and they all look super-fancy. Perhaps a bead clump could help hide unloved stitching and uncountrify your hemp.

And now to find your chicken-lettuce post with the alternate awesome spelling in it …
email
maitreya[@]craftlog[.]org
books I'm in
Pinterest
Categories
Blogroll
Archives
creative commons
craftlog is under a
Creative Commons
Attribution Noncommercial
license
. That means that you are all welcome to take and repost my photos, replicate my projects, remix my ideas, whatever you want as long as you give attribution (a link is fine) and it's noncommercial. Thanks!