Posted on March 4th, 2011 by maitreya. Filed under Crafty Review, Experiments.
Home sick for two days and working my way through the backlog on the Tivo since I dispatched all my Law and Order reruns yesterday.  I found a cache of Knit and Crochet Today episodes from January that I had never gotten around to watching.  One was on using flower looms (to make a truly hideous scarf).  It reminded me that I got a set of looms at a garage sale last year and never gave it a try (typical).
Cathy of California also has a good tutorial.
The first one, using hemp string and a small loom, came out way too country-cute for my taste.  This is not helped by the button, but I needed to cover up my uneven stitches holding everything together.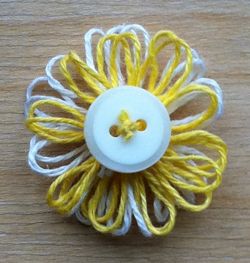 The second one, of kitchen twine and thread on a large loom with a small inner ring of pegs, is a little more interesting.  But still very very home ec.
Oh well.  They are quick to do at least.
One Response to "loom flowers"
futuregirl Says:
March 5th, 2011 at 2:25 am

Sorry to hear you are/were sick. :( boo. Came here looking for the correct missspelling of awesome (osum seems too short) so I can tweet something. I think I'm running on fumes because I know, in the back of my brain, I'm sort of rambling, but I can't stop myself. By the end of the work week, I'm pretty much fried. :)

Um, all of that to get to this: I've been seeing lots of fiber-based flowers with clumps of beads in the center, and they all look super-fancy. Perhaps a bead clump could help hide unloved stitching and uncountrify your hemp.

And now to find your chicken-lettuce post with the alternate awesome spelling in it …
email
books I'm in
other sites I'm on
Pinterest
Categories
Blogroll
Archives
creative commons