Posted on May 30th, 2011 by maitreya. Filed under Crochet, Experiments, Martha.
I whipped up a couple of test squares for a baby blanket project I'm contemplating.  Lion Cotton on sale in Natural, Seaspray, and Paprika.  Left side a G hook and right side an I, which was definitely easier to wrangle.  I don't know how they expect you to use the F hook recommended on the package.  I also added an extra round of Natural on the right.
The pattern on the left is from the Martha Stewart directions, from which I first learned to crochet lo these many years ago.  In fact, the (inverted) color scheme is from a project in the same article, which I was reminded of after someone pinned this photo on Pinterest.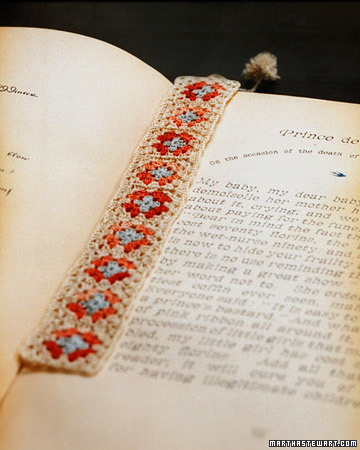 I still have a couple of tiny thread grannies I crocheted before I lost interest.  Wonder what else I could do with them?
I also consulted the instructions from Purl and kind of used a consensus pattern for the version on the right.  Variables tested (left vs right): turn between rounds, don't turn; no chain between clusters, chain 1 between clusters.  Not a huge difference, but I think I'm going to stick with the version on the right.
Attic24 has a nice tutorial for joining squares as you go.  Finishing is my baby blanket Achilles heel, so this is very appealing.
2 Responses to "granny experiments"
Mel Says:
May 30th, 2011 at 8:49 pm

Those tiny thread grannies would make excellent accessories for doll houses or for ball-jointed doll enthusiasts.
email
maitreya[@]craftlog[.]org
books I'm in
Pinterest
Categories
Blogroll
Archives
creative commons
craftlog is under a
Creative Commons
Attribution Noncommercial
license
. That means that you are all welcome to take and repost my photos, replicate my projects, remix my ideas, whatever you want as long as you give attribution (a link is fine) and it's noncommercial. Thanks!