Posted on October 10th, 2011 by maitreya. Filed under Art, Cross Stitch/Embroidery.
I was lucky enough to win a piece of art from a is for anika.
I wanted to make her something as a thank you. It seems like it must be hard to part with so many original artworks, so I tried to recreate the picture I won in thread. I wasn't able to capture the awesome color blocking and depth of the original, but I still kind of like how it turned out.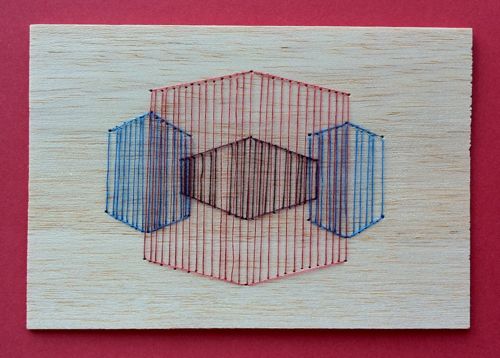 I got the idea paging through the new Doodle Stitching book (photo here). I just printed out the image, masking taped it to the wood, and used a pin to poke holes following the drawing. You can't poke the holes too close together or else they can merge when you pull the thread through. I had that happen a couple of times, but it wasn't too hard to cover up.
What I like about it is that the wood is a nice stiff backing that makes long, straight stitches possible. I'm already working on another one :)
email
maitreya[@]craftlog[.]org
books I'm in
Pinterest
This recipe with white beans is probably my favorite farro salad yet. The creamy beans play a huge role in that, along with the sweet tender leeks and fresh parsley. But it's the chunks of salty, citrusy preserved lemon, a condiment often used in Moroccan cooking, that really takes this salad to the next level.
Categories
Blogroll
Archives
creative commons
craftlog is under a
Creative Commons
Attribution Noncommercial
license
. That means that you are all welcome to take and repost my photos, replicate my projects, remix my ideas, whatever you want as long as you give attribution (a link is fine) and it's noncommercial. Thanks!