Posted on October 10th, 2011 by maitreya. Filed under Art, Cross Stitch/Embroidery.
I was lucky enough to win a piece of art from a is for anika.
I wanted to make her something as a thank you. It seems like it must be hard to part with so many original artworks, so I tried to recreate the picture I won in thread. I wasn't able to capture the awesome color blocking and depth of the original, but I still kind of like how it turned out.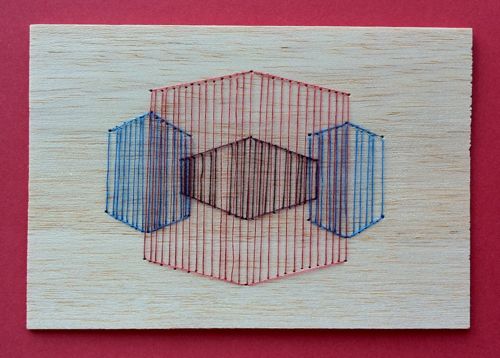 I got the idea paging through the new Doodle Stitching book (photo here). I just printed out the image, masking taped it to the wood, and used a pin to poke holes following the drawing. You can't poke the holes too close together or else they can merge when you pull the thread through. I had that happen a couple of times, but it wasn't too hard to cover up.
What I like about it is that the wood is a nice stiff backing that makes long, straight stitches possible. I'm already working on another one :)
email
books I'm in
other sites I'm on
Pinterest
Categories
Blogroll
Archives
creative commons