Posted on August 14th, 2011 by maitreya. Filed under Home and Garden.
I made a salad the other night entirely from the garden in honor of my first tomato (a Siletz, for anyone keeping score).
But then I flipped it over and found this: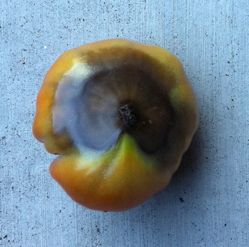 Boo, blossom end rot!  I recognized it having just read a post about blossom end rot at gardenhelp.  They recommend eggshells, since one cause is calcium deficiency, so I sprinkled some from the chicken supply around each plant.  I bet I'm not watering them exactly right, though.  The plant has a ton more fruit coming up, though, so fingers crossed this was a fluke.
At this point it became a beet salad.  Mark grilled the beets (yum!) and we had them with arugula and feta cheese.  I also sauteed up the greens with some of my garlic harvest.  Beet greens are right after kale as my favorite green I'm growing.  The chard wins for prettiest, but it can be a little too bitter.
3 Responses to "blossom end rot"
lisa s Says:
August 14th, 2011 at 1:54 pm

funny. i'm roasting beets and simmering the greens as i reed this ! :)
hoping no more tomato rot. we just barely have any GREEN ones the weather has been so cold. sigh

Becky Says:
August 16th, 2011 at 9:21 pm

I've only ever gotten blossom end rot when I haven't been careful about watering. They need a steady supply, otherwise, you'll get that.
The top half was pretty though!

jenn Says:
August 18th, 2011 at 9:27 am

I lost most of last year's tomatoes to blossom end rot! I just found it on 2 tomato plants already this year. Curses! I've heard that egg shells don't supply enough calcium to really make a difference and that horticultural lime is supposed to do the trick. I did add lime to these tomatoes so I'm wondering if it's a watering issue. Gardening can be so confusing!
email
maitreya[@]craftlog[.]org
books I'm in
Pinterest
Categories
Blogroll
Archives
creative commons
craftlog is under a
Creative Commons
Attribution Noncommercial
license
. That means that you are all welcome to take and repost my photos, replicate my projects, remix my ideas, whatever you want as long as you give attribution (a link is fine) and it's noncommercial. Thanks!