Posted on September 14th, 2011 by maitreya. Filed under Home and Garden.
The garden is really going gangbusters right now.  My extremely late-planted lemon cucumbers even made it, though it's now a race between the powdery mildew and more cucumbers.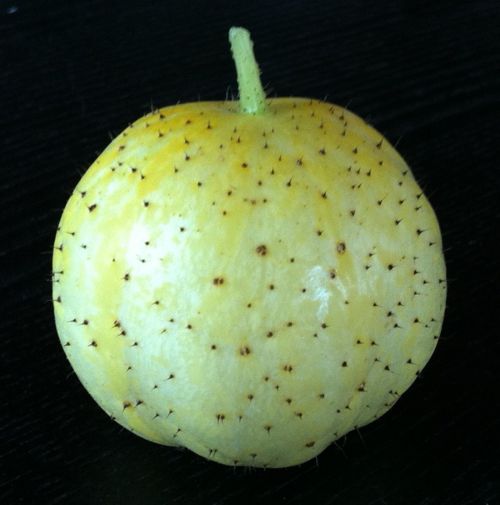 The powdery mildew is also hard at work attacking all my squashes.  I have pumpkins and winter squashes set on several plants, so fingers crossed they will mature before the end comes.  Even with the mildew, my pattypan squash finally caught up with the rest of the summer squash plants, so now I am harvesting 4 types of zucchini and squash!  I gave away a big bag of them at lab, and am probably going to do some freezing and pickling too.
The tomatoes are in full swing and I am not tired of them yet like with the squash (seriously, we have been eating squash in some guise for dinner almost every night for weeks).  Yesterday I ate four different varieties: yellow pear (my only surviving plant started from seed.  It just has one little cluster of fruit, but yum!), siletz, sugar lump, and striped roman.  This was my first striped roman to mature, and I was very annoyed to discover pillbugs eating the blossom end.  Luckily these are long skinny fruit, so it was easy enough to cut off the buggy part.  The rest went on what my mom calls a "kitchen sink" sandwich: thick crusty bread with mayo and big slices of tomato so juicy you have to eat it standing over the kitchen sink.  The only type I haven't tried yet is the momotaro, but there's one giant fruit that will be ready very soon.  It's a pink variety, so I'm not quite sure how to know if it's done.  Once I pick it, I'll try to take a group shot.  It's amazing how diverse they are.
Also currently harvesting: kale, chard, arugula, pole beans, dill, chamomile, radishes, beets, lettuce, thyme.  The pole beans have been a big disappointment.  I planted a purple podded variety that is beautiful, but I tried to trellis it up my fence and it didn't work very well.  Same with my Scarlet runner beans and my fall crops of peas.  Next year….
And one last fun crop: catnip!  The cats are going bonkers for it.  Not that our new! baby! kitten! needs any excuse to go bonkers.
email
books I'm in
other sites I'm on
Pinterest
Categories
Blogroll
Archives
creative commons