Posted on December 2nd, 2011 by maitreya. Filed under Holiday, Projects with Instructions.
I've got advent calendar envy with all the cool ones posted around blogland lately.  I was trying to come up with something I could make entirely from supplies I already have and ended up with this.  I have to say, it's pretty pathetic, but I get a silly kick out of it.  It's a funny ice cube tray I got at the Goodwill for eventual use as a resin mold.  The little bubbles made me think of a pill pack.  The shiny foil is origami paper.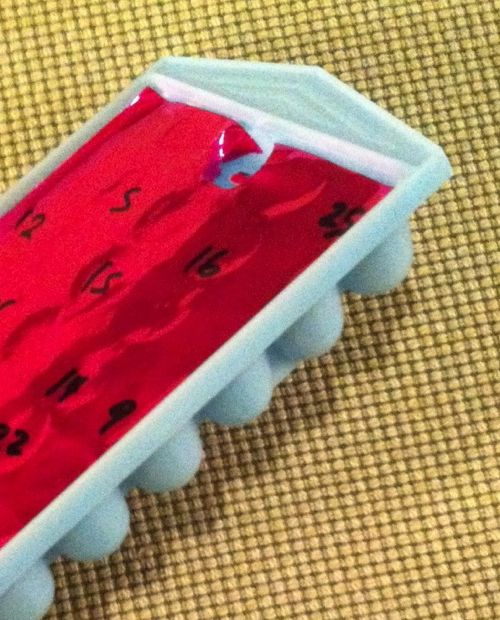 I cut the foil paper to size, and rubbed it to make an impression of each bubble.  Then I numbered 25 random spaces and put something in the matching bubbles. Brush a little watered down water-soluble nontoxic glue on the top of the ice cube tray, and press the foil on.  Each day you punch through the foil to retrieve your prize.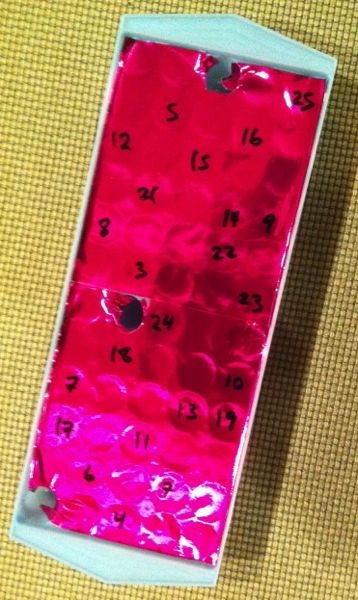 And the exciting prize inside?  Vitamins.  Just to make it even lamer. But now I will remember to take my vitamin every day.
5 Responses to "sad ice cube tray advent calendar"
email
maitreya[@]craftlog[.]org
books I'm in
Pinterest
Categories
Blogroll
Archives
creative commons
craftlog is under a
Creative Commons
Attribution Noncommercial
license
. That means that you are all welcome to take and repost my photos, replicate my projects, remix my ideas, whatever you want as long as you give attribution (a link is fine) and it's noncommercial. Thanks!