Posted on February 12th, 2012 by maitreya. Filed under Crafty Review, Home and Garden, Inspiration.
Mark and I spent the whole day yesterday at the Northwest Flower and Garden show.  It was a lot of fun, and I managed to find a few things to bring home: Rose Finn Apple and La Ratte fingerling potatoes from Irish Eyes, a free packet of carrot seeds from the zoo booth, some samples of chicken feed from Portage Bay Grange, and an armful of 50% books that I've been meaning to get anyway, including Put 'em Up, Sugar Snaps and Strawberries, and Your Farm in the City.  I was a little disappointed there weren't more vegetable seed companies there, though. I had hoped to find a few novel varieties not usually locally available.  There was one booth of Italian seeds that was interesting, plus Irish Eyes, but beyond that, nada.
We did get lots of ideas at the show.  I'm going to try bolding the ideas I want to remember the most for reference.  Mark was the official family photographer.
We had two favorites of the demonstration gardens, both including lots of edibles.  The first was titled Pictures at a Northwest Exhibition (creators), and featured an accordion player in a gazebo made from repurposed items and vegetables planted in slices of industrial pipe.
They also had a Kippenhouse duck coop with a living roof and potatoes planted in burlap bags.
The other one we liked was by Cascadian Edible Landscapes.  Besides all the nice vegetables, they had a chicken coop (with chickens, unlike the plastic ducks in the other one) made out of a VW bus by Recoop.
The big winner garden was also pretty spectacular, using giant tree roots in the landscape.
We spent the afternoon going to seminars.  The first was by Jessi Bloom: "What the Cluck?! Great Plant Choices for Gardening with Chickens."  She brought a few chickens for show and tell, and her talk covered some of the topics in her new book, which I am currently on the reserve waiting list for at the library (thank you Seattle Public Library iPhone app).  She had some good suggestions, and made us realize that letting our chickens out to range during the day is not very useful if they have nothing in their little landscape.  Even though we only have two chickens, and they have a really spacious area, they have eaten every single green thing in sight.  This year we're going to try to plant some shrubs by the coop to liven things up, and today I set up their tractor over one of my cover-cropped beds.  I was going to turn this bed under this weekend to plant with sweet peas, but instead maybe they will do it for me and get some tasty greens at the same time.
Next up was a kind of bizarre talk about Potager gardens, which included some nice pictures but not much information content.
After that, we went to see Ciscoe Morris's seminar on Indestructible Plants.  He's such a character.  Every slide came with a funny story and encyclopedic information.  I really need to see if the podcast of his radio show ever started up again.
We had to leave that one early to get to Annette Cottrell's Winter Vegetable Garden talk.  I did a lot of research on winter gardening this past year, so I was reasonably familiar with a lot of what she said.  I did get on the library reserve list for her book, though.  She had some great advice on capturing heat that we will probably try to implement somehow.
The other set of displays we really enjoyed were container gardens.  There were two I particularly liked, both of which featured moss-covered walls.  The first one was by Ravenna Gardens and had a lab theme, so of course I loved it.  Plants in test tubes and beakers!  I am now contractually obligated to try this.
Their moss wall had stag ferns (I think) growing on it.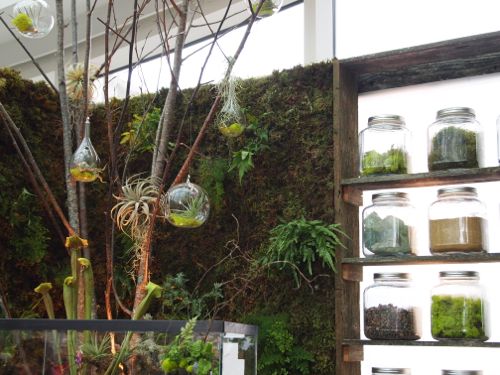 The other one was called Portholes and Time by Cultivar LLC and Midnight Blossom.  The portholes mounted in the shed were pretty great, but I also liked the pretty boxes on the moss wall.  There were lots of cute sheds and coops.  We're now on the hunt for a shed for the coop area to house our garden implements, or maybe we'll build one.  This coop from the ReStore was pretty great.
Whew, it was definitely a busy day!  I'm not sure I'll go every year, but it is definitely worth visiting occasionally.
2 Responses to "Northwest Flower and Garden show 2012"
Erica Says:
February 13th, 2012 at 8:14 am

I can't believe I missed that duck coop! I wish I would have had more time to go to the seminars, unfortunately there weren't any that I wanted to attend at the time I was there. Sounds like you had a great time!
email
maitreya[@]craftlog[.]org
books I'm in
Pinterest
Categories
Blogroll
Archives
creative commons
craftlog is under a
Creative Commons
Attribution Noncommercial
license
. That means that you are all welcome to take and repost my photos, replicate my projects, remix my ideas, whatever you want as long as you give attribution (a link is fine) and it's noncommercial. Thanks!