Posted on February 24th, 2018 by maitreya. Filed under Crafty Review.
I was wondering the other day whatever happened to the people who used to run the dear, departed Assemble Shop.  Turns out they wrote a book!  It's really pretty and has several cute projects.  My favorite is the Spirographed Tote.
Comments Off

on Print, Paper, & Ink
Posted on December 27th, 2017 by maitreya. Filed under Holiday, Paper Crafts.
Loosely inspired by this much cooler gift wrap.  If I had been more industrious, I would have added more holidays.
Comments Off

on minimal holiday card
Posted on September 5th, 2017 by maitreya. Filed under Cross Stitch/Embroidery.
Cross stitch attempt to comfort students taking a hard course with me.
Comments Off

on It'll be fiiiiiiine
Posted on February 18th, 2017 by maitreya. Filed under Paper Crafts.
I got a couple of stamp carving books for Christmas (Block Print by Andrea Lauren and Making an Impression by Geninne Zlatkis) but hadn't gotten around to trying it out or buying the relevant tools.  Conveniently, I came across a stamp carving class from Paper + Craft Pantry, which seemed like a good way to get over that activation energy barrier.  The class was taught by Laura Fisk of Fisk and Fern.  She had great energy and the class was really fun and definitely demystified the whole process.
My starter idea was a multi-layer modular plant set.  It's 4 separate stamps: the plant, the pot, and 2 outlines, and I plan to make additional pots and plants that are interchangeable.  The hardest part is lining everything up, but I think being slightly out of register adds to the charm.
I'd played around with eraser stamp carving before, and the Speedball cutter tool is definitely way better than an X-acto knife.  I think I actually like erasers better than the Speedball rubber, though.  They seem more solid and easier to ink and print evenly.
Comments Off

on stamp carving class
Posted on December 16th, 2016 by maitreya. Filed under Cross Stitch/Embroidery.
Embroidered a tea towel for the coffee cart at lab.  I'd forgotten how meditative cross stitch is.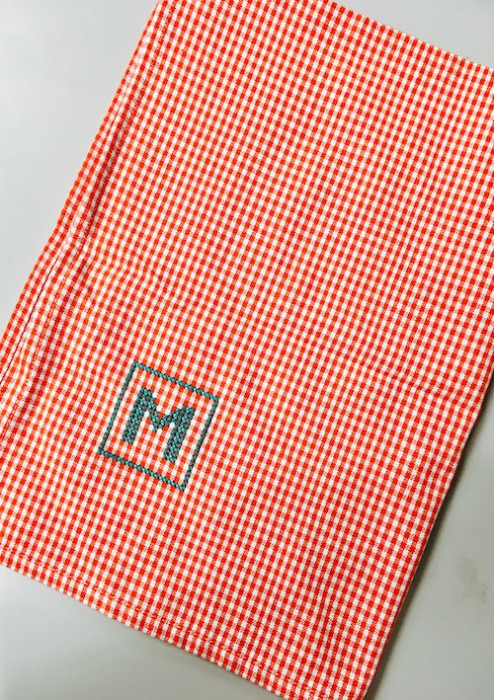 Comments Off

on chicken scratch monogram
Posted on December 13th, 2016 by maitreya. Filed under Crafty Review.
I'm living temporarily in Austin, and one of the nice things about being in a new city is having access to a whole new library system.  I have checked out a bunch of craft books that Seattle doesn't have, including almost all the Meet Me at Mike's books.  They are very pretty.  I particularly liked the Too Cute Tunic Dress from Sew La Tea Do: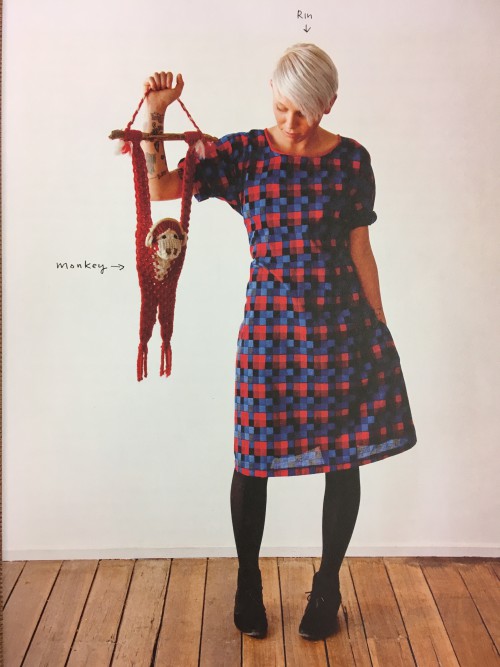 Still haven't managed to make any new projects.  I have a couple ideas in the works, though.
Comments Off

on cute tunic dress
Posted on November 2nd, 2016 by maitreya. Filed under Sewing/Fabric Crafts.
Wow, am I out of practice.  I bookmarked this *3 years* ago: LBG Studio potholder in a neo-retro kitchen-ware pattern from Melody Miller.  I tracked the fabric down on Etsy somewhere, also a long time ago, and even cut everything to size, where it then sat by the sewing machine until tonight.  I have never been very good at quilting and binding, and boy does it show that it's been a while since I sewed anything:
I obviously should have used this tutorial for binding from Smashed Peas and Carrots.  Oh well, at least I'm back on the horse.  Maybe it'll look better after a run through the wash?
Comments Off

on pot holder
Posted on January 30th, 2016 by maitreya. Filed under Inspiration.
I've had this as my phone lock screen lately and I'm trying to take it to heart.  Working on things I like and find important makes me happy.  Gardening makes me happy.  Cooking and exercising and not feeling like a slug make me happier than the alternative, even if they take a little activation energy.  Crafting used to make me happy too, but I stopped doing it for some reason.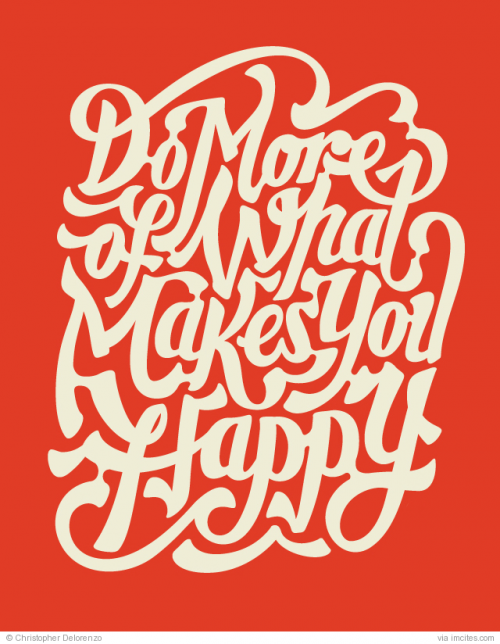 image by Christopher Delorenzo
By the way, Craftlog has moved to a new setup with upgraded WordPress and such.  In the process Crafting Japanese and Marthadex both died, but their times have passed anyway.  Apparently I'm not the only purveyor of dead links: most of the links in my sidebar and my artists and shops page were dead.
New header font is Sketch Match.
Comments Off

on Do more of what makes you happy
Posted on December 15th, 2014 by maitreya. Filed under Gocco/L Letterpress, Holiday.
I manage to make my holiday cards about every other year or so.  This year, I used the Gocco to print shiny gold bows.  The bow drawing is by Krusty.  I love how they turned out!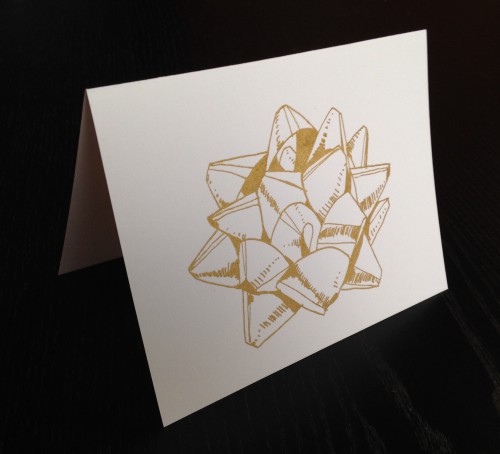 Comments Off

on Gocco bow cards
Posted on November 30th, 2014 by maitreya. Filed under Sewing/Fabric Crafts, Toys (cat and kid).
We're home for Thanksgiving weekend, so it seemed like an ideal time to get some crafting in.  This is a present for my friend's new daughter.  It came together pretty quickly (well, after I spent 3 hours cleaning my craft room to uncover a surface to work on!)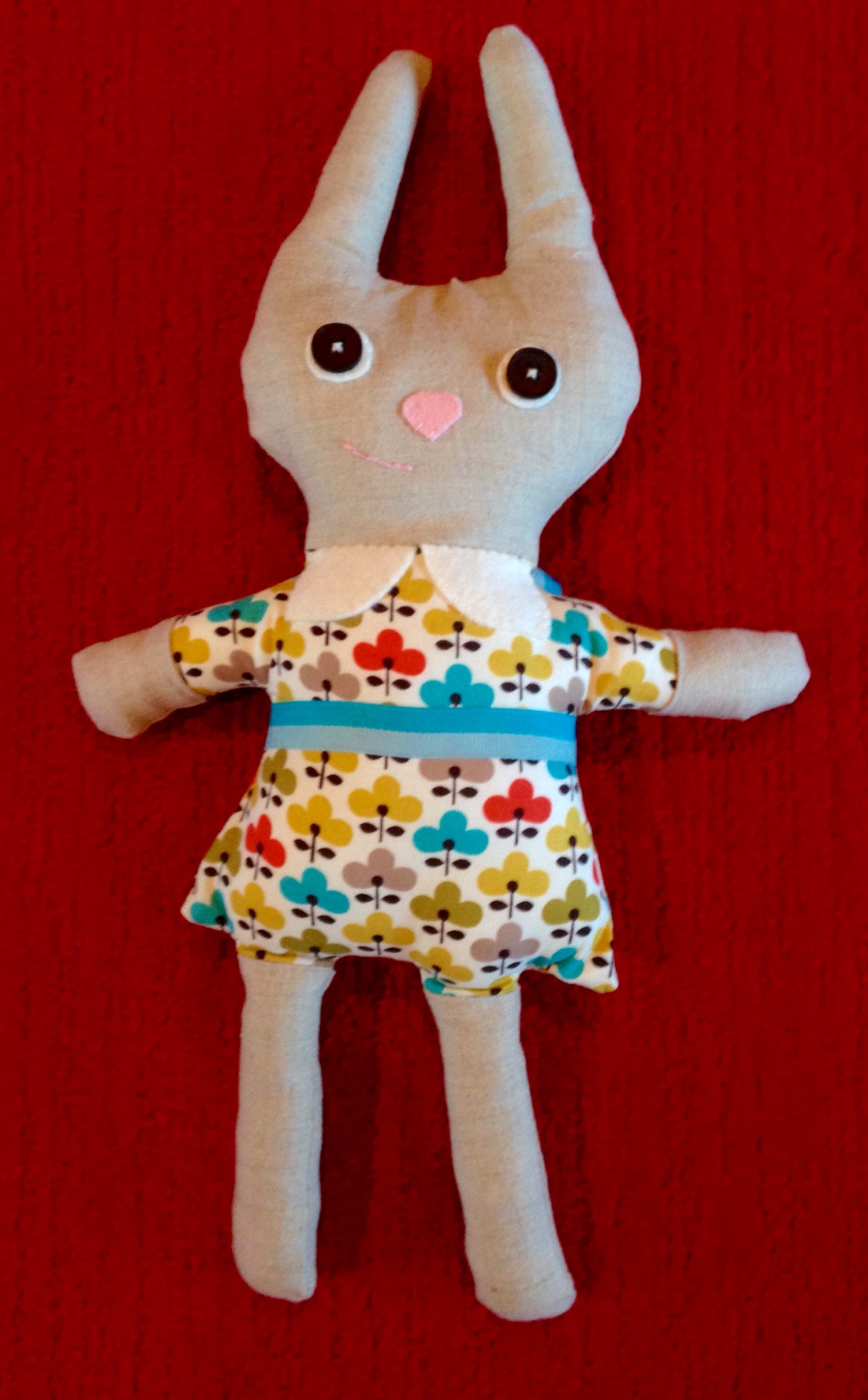 I've now made each of the animals in the Wee Wonderfuls booklet (see previous bear and kitty), yay!  It's been a while, so it's a little painfully handmade looking, but that's the charm, right?
Comments Off

on Wee Wonderfuls bunny
email
maitreya[@]craftlog[.]org
books I'm in
Pinterest
Categories
Blogroll
Archives
creative commons
craftlog is under a
Creative Commons
Attribution Noncommercial
license
. That means that you are all welcome to take and repost my photos, replicate my projects, remix my ideas, whatever you want as long as you give attribution (a link is fine) and it's noncommercial. Thanks!