Posted on April 23rd, 2006 by maitreya. Filed under Cross Stitch/Embroidery, Felting.
Whew, all done. Here's the drawer organizer, though I think it's pretty enough that you could keep it on your desk. Thanks Lisa and Ali for the suggestion of replacing the rubber bands with pins. I attempted tacks and pushpins before going with the T-pins, which are my favorite at lab and which also turn out to look the best embroidered. I also tried a staple remover, which my sister suggested. It actually didn't turn out too bad, but it seemed a little superfluous without also doing a stapler, which is a little too 3D for this sketchy style I think. Another try with a ruler turned out really bad. The background fabric is another thrift store pillowcase that I fused to the back of the embroidery.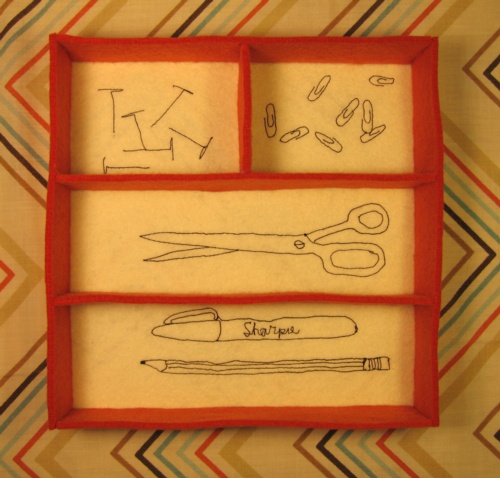 18 Responses to "felt desk tray"
email
maitreya[@]craftlog[.]org
books I'm in
Pinterest
Categories
Blogroll
Archives
creative commons
craftlog is under a
Creative Commons
Attribution Noncommercial
license
. That means that you are all welcome to take and repost my photos, replicate my projects, remix my ideas, whatever you want as long as you give attribution (a link is fine) and it's noncommercial. Thanks!