Posted on November 11th, 2006 by maitreya. Filed under Experiments.
I've had pine cones on the brain lately. I believe it started a while back with Karen Gelardi's pinecone prints (which you can buy at ferdinand.)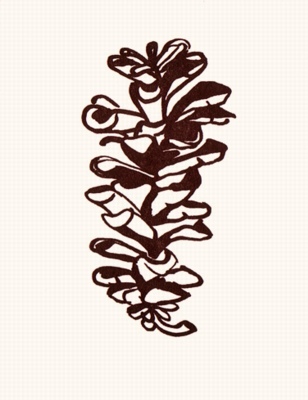 The last week I've been seeing them everywhere:
and these 2 beauts from blissen
I signed up for some ornament swaps and decided pinecone prints it is. First order of business is doing the drawing. I found a nifty website for a cone collection. Who knew there were so many types of cones? Fascinating. Anyway, I printed out a bunch of different ones and tried tracing them with a sharpie (one of the 29-pack I got for my birthday!) I kind of like the effect, although you can see this method worked better for some than others.
The gocco prints are drying now, so tune in later for the finished ornaments.
3 Responses to "pine cone prints"
moki Says:
November 11th, 2006 at 11:37 pm

What a coincidence, today I went to an assisted living home to help them make turkey centerpieces out of pinecones and I just kept thinking about how wonderfully cozy all the nooks and crannys seem.

I'll be coming back to see those ornaments!

Hanna Says:
November 12th, 2006 at 7:57 am

I like your prints, and your research on the pine cones. I think it is so cool that you allways see (or hear) a lot of what you've just disovered or learned – suddenly it's everywhere. Serendipity?!
email
maitreya[@]craftlog[.]org
books I'm in
Pinterest
Categories
Blogroll
Archives
creative commons
craftlog is under a
Creative Commons
Attribution Noncommercial
license
. That means that you are all welcome to take and repost my photos, replicate my projects, remix my ideas, whatever you want as long as you give attribution (a link is fine) and it's noncommercial. Thanks!