Posted on May 12th, 2007 by maitreya. Filed under Cross Stitch/Embroidery.
I've been working on this sampler for a while now, and finally mounted it the other night over at Becket's house. The backstory is, a few months ago I was complaining about a lousy review one of my papers got. It was so unreasonable, blah blah blah. In the middle of my rant, a good friend and colleague gave me the best science career advice ever: get used to it. All the bad science things that happen, lousy reviews, experiments that don't work, personal conflicts, etc, there is nothing you can do about them. So get used to it. Best. Advice. Ever. I used to get upset over this kind of stuff, but now I just say get used to it. It had to be embroidered into a sampler.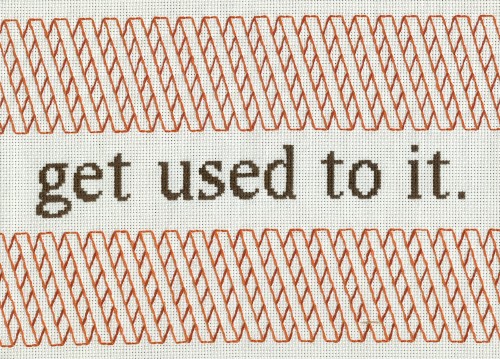 The design inspiration is the building my lab is in. There are these funny louvers that are supposed to cast a DNA-like shadow, and the prevailing color scheme is burnt orange and dark dark brown. The louver pattern took a bit of trial and error to get the right aspect ratio, but I'm pretty happy with it. Haha, now I will tack it up on my wall to scare the grad students.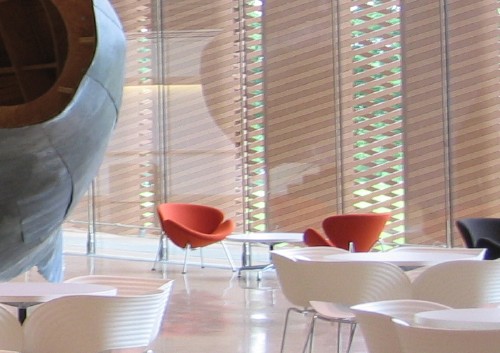 photo credit to Becket
10 Responses to "lab sampler"
email
maitreya[@]craftlog[.]org
books I'm in
Pinterest
This recipe with white beans is probably my favorite farro salad yet. The creamy beans play a huge role in that, along with the sweet tender leeks and fresh parsley. But it's the chunks of salty, citrusy preserved lemon, a condiment often used in Moroccan cooking, that really takes this salad to the next level.
Categories
Blogroll
Archives
creative commons
craftlog is under a
Creative Commons
Attribution Noncommercial
license
. That means that you are all welcome to take and repost my photos, replicate my projects, remix my ideas, whatever you want as long as you give attribution (a link is fine) and it's noncommercial. Thanks!