Posted on September 27th, 2007 by maitreya. Filed under Sewing/Fabric Crafts.
A new wrap skirt with Joann's sale rack denim and lined with a cute floral (you can see a peek at the bottom). The original plan was for double-sided, but the flower pattern is just too much for a whole skirt. I rather like it, except that it, uh, makes me look rather larger than I would prefer. I'm not sure if it's all the fabric, or the length, or the cut, or what, because it does seem to fit. I'm going to have to consult my sewing buddies next craft night.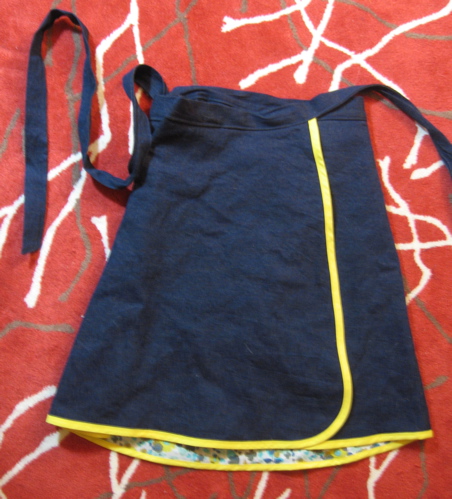 I used the free Dana A-line wrap skirt pattern from Fitzpatterns. I modified it somewhat: quite a bit shorter, longer ties, lined, rounded corners, and bias-tape-trimmed. The pattern was pretty painless except that I could not keep the waistband from twisting. It's barely noticeable, and it actually makes one of the ties spiral in a kind of pretty way, so I left it after the third ripout-resew iteration.
4 Responses to "dana wrap skirt"
email
maitreya[@]craftlog[.]org
books I'm in
Pinterest
Categories
Blogroll
Archives
creative commons
craftlog is under a
Creative Commons
Attribution Noncommercial
license
. That means that you are all welcome to take and repost my photos, replicate my projects, remix my ideas, whatever you want as long as you give attribution (a link is fine) and it's noncommercial. Thanks!