Posted on June 1st, 2008 by maitreya. Filed under Jewelry, Paper Crafts.
I've been playing with my spirograph a lot the last few days, working on a book proposal before I came to my senses and realized that no way in hell do I have time to write a craft book. Anyway, I had fun coming up with ideas, so I'll post a few of the ones that turned out cool.
First up, spirograph on shrink plastic. I tried this first on some smooth shrinky stuff that I already had, but it smeared too much. This type has one side textured so that it doesn't smear.
Necklaces. One has a little hole punched in it, and the other I cut a bigger hole from the center for stringing.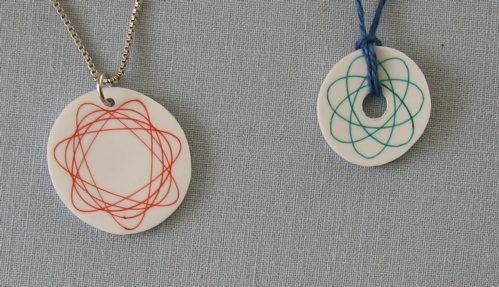 Pushpins ala the famous Wee Wonderfuls tutorial. I found some little short "sequin" pins made for applique that are just perfect pushpin-length. (btw, I wasn't going to include these in the proposal since it's not my idea, but they clearly had to be made once I saw the necklaces.)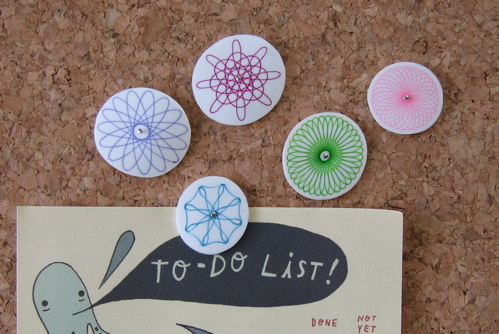 4 Responses to "spirograph + shrinky dinks = nostalgia overload"
email
maitreya[@]craftlog[.]org
books I'm in
Pinterest
Categories
Blogroll
Archives
creative commons
craftlog is under a
Creative Commons
Attribution Noncommercial
license
. That means that you are all welcome to take and repost my photos, replicate my projects, remix my ideas, whatever you want as long as you give attribution (a link is fine) and it's noncommercial. Thanks!