Posted on December 31st, 2008 by amy. Filed under Uncategorized.
My mom is a very accomplished seamstress, and I'm fortunate that she still enjoys sewing for me. There is nothing like a custom-made garment! Since we live so far apart, fit has always been a challenge. There have been a lot of phone calls asking, "could you measure the circumference of your left bicep?" Mom decided she'd like to have a dress form of me, and while looking into commercial options, she stumbled on the many great descriptions of duct tape dress forms. Using the instructions at Threads Magazine and another duct form dress form description at Etsy, she hit the hardware store and we got to work.
We wanted to make sure there was some neck coverage, so I began with an old, close-fitting turtleneck and lengthened it by serging on an old t-shirt. Then, we started wrapping, 3 layers in total.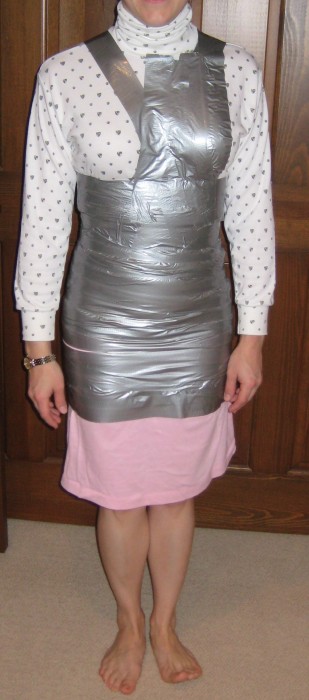 Once the wrapping was done, we cut it off (be careful not to cut your bra strap!) and stuffed it with the combination of an old pillow and fiberfill. Dad traced the bottom and cut a piece of plywood to fit, and mounted it on a pipe. The stand was recycled from a high school award plaque. We cut the pipe so that it would be my height.

Mom's innovation was the addition of the arm. We find that the armscye is typically a tough region to fit (especially if you are from hearty Midwestern stock like me!) She has sewed for me since we made this, and she said that it really increased her confidence. And, a shirt she made recently proved the usefulness-it fit perfectly!
We also did one for mom (these are also a big help when sewing for yourself!)  We realized each has its own personality, so we named mine "Rhonda", and hers "Lulu"!
13 Responses to "duct tape dress form"
email
maitreya[@]craftlog[.]org
books I'm in
Pinterest
Categories
Blogroll
Archives
creative commons
craftlog is under a
Creative Commons
Attribution Noncommercial
license
. That means that you are all welcome to take and repost my photos, replicate my projects, remix my ideas, whatever you want as long as you give attribution (a link is fine) and it's noncommercial. Thanks!