Posted on January 14th, 2009 by maitreya. Filed under Craft Room, Paper Crafts, Wants.
I love calendars.  Becket sent me an awesome Gocco one from modern printed matter that I have up in my office.  I love the layered colors and natural silhouettes.  Instead of the CD case stand, they're hung by binder clips on my bulletin board.  It's the first year in a while that I haven't put up a Nikki McClure one, but change is good.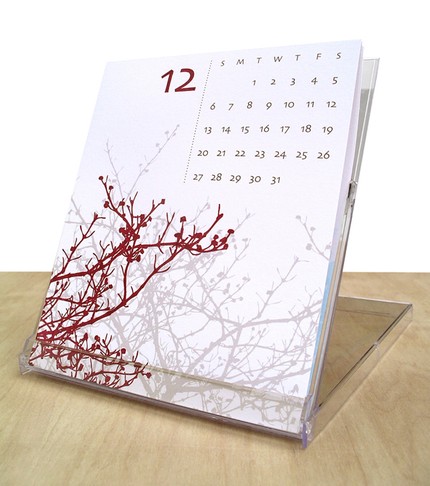 In my kitchen, I printed out this calendar from LollyChops.  Originally I was going to make the alternate version using vellum overlays, but I don't have any vellum handy and tracing paper ended up being too flimsy.  The narrow size is a perfect fit in my kitchen where I put my A Little Hut calendar last year (you can get 2009 ones in her Etsy shop).  In fact, I even used the same wire hanger I used on the old calendar.
For my craft room, I printed out this ridiculously cute town calendar from Canon.  It replaces the tiny showcase letterpress lunar calendar I had last year (which also came in a 2009 version).  Actually, replace is the wrong word since I left the 2008 calendar up too because it's so pretty. :P
And last, in the bedroom, there's the bubblewrap calendar.  It's not exactly the prettiest thing in the world, but I like the vertical-months design, and it's like a year round advent calendar, so how could I not get it?  The bubbles are really satisfying to pop, so loud that Mark sometimes calls "what was that?" from another room.
3 Responses to "2009 calendars"
ariel Says:
February 5th, 2009 at 11:35 am

I am going to make you this. Except that takes up too much room, so I'm going to put it on a roladex. Sure, it'll end up costing me $60 in film, but hey, you can use it FOREVER.
email
maitreya[@]craftlog[.]org
books I'm in
Pinterest
Categories
Blogroll
Archives
creative commons
craftlog is under a
Creative Commons
Attribution Noncommercial
license
. That means that you are all welcome to take and repost my photos, replicate my projects, remix my ideas, whatever you want as long as you give attribution (a link is fine) and it's noncommercial. Thanks!