Posted on August 30th, 2009 by maitreya. Filed under Experiments, Toys (cat and kid).
For anyone else thinking of making print-out dolls like the ones in Parasol craft or my last post, I thought I'd post a little comparison of Bubble-jet-set vs iron on. I made two dolls using the exact same pattern and fabrics, but the left one was printed directly on bubble-jet-set-treated fabric, and the one on the right was ironed on to the fabric.  For both, the backing fabric was a patterned cotton (the instructions come with a printable backing pattern that matches the dresses, but I didn't have enough iron ons or treated fabric to use it).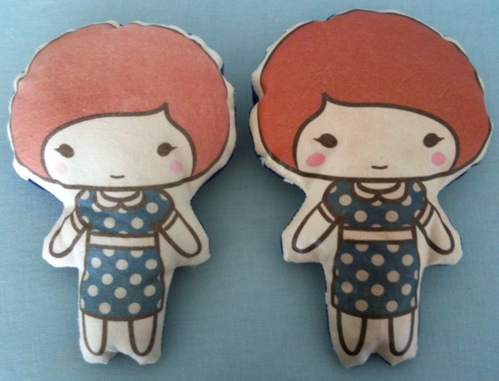 | | | |
| --- | --- | --- |
| | Bubble Jet set | iron-on |
| finish | matte | shiny |
| feel | soft | plasticy |
| ease of sewing | easy | slightly tricky (especially by hand) |
| color | washed out | saturated |
| stuffing | more uniformly plump | seems lumpier |
| seam allowances | be more generous | stronger and narrower, but stiffer |
| technical difficulties | printer might jam | easy to iron on unevenly |
I think the slight advantage goes to the iron ons for this project. I kind of like the plastic finish; they seem like vinyl toys or something. The color saturation is also really obviously superior for the iron-on.
I think it's a toss up which one will stand up better to real life child use. The iron on will eventually crack, no doubt, but I don't know if the bubble-jet-set will fade or bleed over time.
I would be willing to bet that digitally printed fabric wins hands down, though, (for doll patterns you designed yourself, anyway).  True Up has a great comparison of the quality of the different services available
10 Responses to "printed fabric vs iron on"
email
maitreya[@]craftlog[.]org
books I'm in
Pinterest
Categories
Blogroll
Archives
creative commons
craftlog is under a
Creative Commons
Attribution Noncommercial
license
. That means that you are all welcome to take and repost my photos, replicate my projects, remix my ideas, whatever you want as long as you give attribution (a link is fine) and it's noncommercial. Thanks!