Posted on November 15th, 2009 by maitreya. Filed under Cross Stitch/Embroidery, Jewelry.
Not very successful night of crafting.  I got the December issue of Martha Stewart and went 0 for 2 in attempted crafts.  They have a pattern for cute knotted ribbon wreathes, which didn't seem to go as diagrammed.  Not sure quite what I'm doing wrong, but there seems to be a twist that I was missing.  There's also an article about stuff to make with those yarn flower looms.  I have a similar jig that I thought might work, but I was apparently wrong.  The result looked rather ridiculous and I threw it away.
That's when I put the magazine down and retreated to my old faithful craft, embroidery.  I'd bookmarked this stool and table that had been cross stitched using custom drilled holes.  Then this week noshii's awesome wood jewelry got posted all over the place and reminded me that I'd been meaning to experiment with this idea and had even bought the wood tiles a while back.
So I charged up the dremel tool, penciled a guide on the wood tiles, drilled some tiny holes, and stitched. It's harder to be precise than I thought it would be, so the holes aren't spaced as evenly as I had intended, but I kind of like the wonky cross stitches, especially in the variegated thread.  For the rectangle one, I drilled a bigger hole to fit a grommet.  They both have felt glued to the back to hide the threads.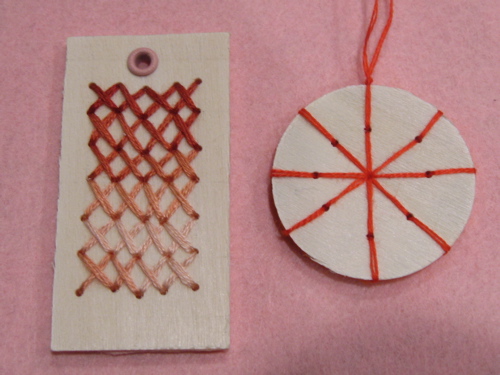 This is definitely a method I'll try again.
3 Responses to "embroidery on wood"
Janine Says:
December 1st, 2009 at 1:10 pm

I also saw this in the Martha Stewart magazine today while at the drugstore. Those turned out pretty darn cute!! I've been wanting to get a drill for crafts but have no idea which one to purchase. Can you please let me know which Dremel you use? Is it the Stylus (cordless)? That's the one I've been thinking of getting. Great project—thanks for posting the photos.
email
maitreya[@]craftlog[.]org
books I'm in
Pinterest
Categories
Blogroll
Archives
creative commons
craftlog is under a
Creative Commons
Attribution Noncommercial
license
. That means that you are all welcome to take and repost my photos, replicate my projects, remix my ideas, whatever you want as long as you give attribution (a link is fine) and it's noncommercial. Thanks!