Posted on March 17th, 2010 by maitreya. Filed under Home and Garden.
We've got some windows in the garage that I'm not too keen on people peering into.  The previous owner had garbage bags tacked up to cover them, which I am ashamed to admit have stayed up for months now.  The first attempt at replacing them was window cling film we got from a hardware store, but it was hard to apply, doesn't look great, and cost a lot.
Plan B is fabric applied with starch, and this weekend I was procrastinating from grant-writing and decided to just go for it with whatever I already have on hand.  I think I got the idea from this very thorough not martha post who in turn linked to all buttoned up.  I sponged the window with the corn starch/water ratio from how about orange and soaked a piece of cheap Ikea linen-look fabric in it before applying.  It took just about 2 cups to do the job.  The first pane I tried to cut the fabric to size.  The second pane I cut a little bigger than the window and tried to cut to fit once applied.  If I try this again, I'll just be very careful cutting it to size.  I was a bit too slapdash to get the edges really neat.
I think the fabric is a little too heavy and blocks too much light.  So now I'm on the look out for something lighter weight, with a slight pattern to it since I do like the effect of the light coming through.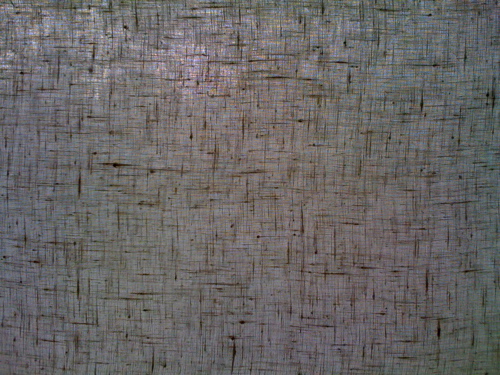 Update: I found a lighter weight fabric and redid the windows.  Check out that post for tips on taking the fabric off and some minor method improvements.
8 Responses to "starched linen windows"
email
maitreya[@]craftlog[.]org
books I'm in
Pinterest
Categories
Blogroll
Archives
creative commons
craftlog is under a
Creative Commons
Attribution Noncommercial
license
. That means that you are all welcome to take and repost my photos, replicate my projects, remix my ideas, whatever you want as long as you give attribution (a link is fine) and it's noncommercial. Thanks!