Posted on April 10th, 2010 by maitreya. Filed under Sewing/Fabric Crafts.
Becket got me a pretty tissue box cover off Etsy a while back, and I had been using it in my office.  Unfortunately, they changed the brand of tissue we use and the new boxes won't fit.  I used kirin's tutorial to make a new custom-sized one.  It has a nice Japanese-craft-book quality to it.  And it's reversible!  The fabrics are a vintage linen I got from the apparently now defunct Make Me Fabrics (see previous use covering a cork board) and a Denyse Schmidt pattern (not shown, but it's the gray one with the orange flowers).  Elastic is a hairtie that was stretched out and buttons are from the Great Philadelphia Button Score of 2007.  The only addition I made to the pattern was to clip all the corners before turning to keep them clean.  Even then, the quilting-weight side pulls a little.  I'm also tempted to go back and top-stitch the edges and along the fold lines, but I'm pretty happy with it as is.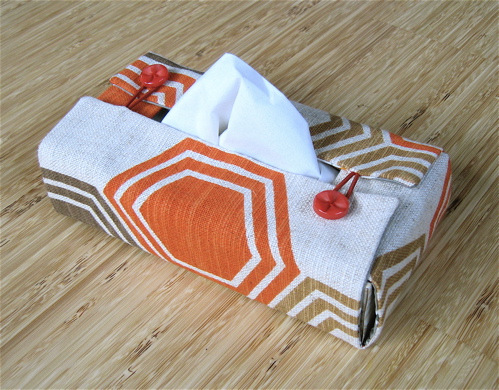 My little planning drawing for some "process."  For some reason I think it's funny that I like to draw on graph papers, but I rarely use the grid :P
9 Responses to "tissue box cover"
email
maitreya[@]craftlog[.]org
books I'm in
Pinterest
Categories
Blogroll
Archives
creative commons
craftlog is under a
Creative Commons
Attribution Noncommercial
license
. That means that you are all welcome to take and repost my photos, replicate my projects, remix my ideas, whatever you want as long as you give attribution (a link is fine) and it's noncommercial. Thanks!