Posted on May 12th, 2010 by maitreya. Filed under Home and Garden.
Our house has a nifty patio that's like an open air room off the main hallway.  It's got a little cement landing, plus there's an obvious space to build a platform deck next to it that will make the space a lot more functional.
Mark can take all the credit for this one.  He got some books out from the library and was off.  First, he designed the whole thing in Google Sketchup.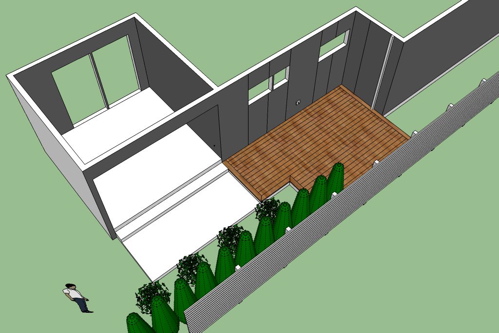 Early on, he decided to use precast concrete "dek blocks" that don't require pouring any sort of foundation. Here's the frame built on the piers.
We decided on composite instead of wood for the decking (the frame is wood).  This being the Pacific Northwest and all, wood has a tendency to age quickly and we didn't want to be refinishing it every year.  We ended up going with a recommended brand Mark found at a local lumberyard (Fiberon Horizon in Ipê) since the cheaper stuff from Home Depot had pretty bad reviews.  It's supposedly made of half recycled materials too.  It slots together and to the framing with a rather ingenious hidden fastener system.
Our friend Aaron (and his carload of power tools) came up from Portland last weekend to help build it.  I can't believe we went from bare dirt patch to this in 3 days!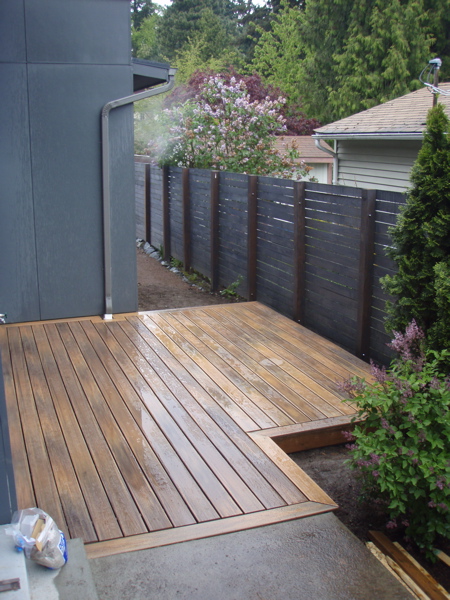 5 Responses to "deck!"
email
maitreya[@]craftlog[.]org
books I'm in
Pinterest
Categories
Blogroll
Archives
creative commons
craftlog is under a
Creative Commons
Attribution Noncommercial
license
. That means that you are all welcome to take and repost my photos, replicate my projects, remix my ideas, whatever you want as long as you give attribution (a link is fine) and it's noncommercial. Thanks!