Posted on May 27th, 2011 by maitreya. Filed under Chickens.
I leave the chickens alone for 36 hours and Sue goes broody.  Poor dumb thing.
Here's a shot from the chicken cam.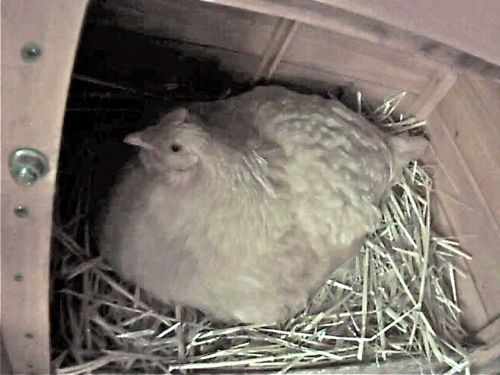 I keep tossing her out of the nest box, but it doesn't take long before she's right back in.  Tomorrow I'm going to put her in solitary and see what happens.  It's kind of amazing what a behavioral switch it is: her body is noticeably warmer, she keeps her feathers fluffed, she makes a funny little clucking noise.
3 Responses to "broody Sue"
Amy in StL Says:
May 31st, 2011 at 4:44 pm

Wow, this reminds me of my 88 year old dad talking about when he was a kid and was in charge of the chickens. I'll never forget him making the noise and saying something about when they made that noise he put them under a bucket or something weird for a specific amount of time to snap them out of it. I can ask my dad about it, but you're probably best to check with someone experienced.

jenn Says:
June 3rd, 2011 at 11:07 am

We've got 3 broody hens (out of five!) right now. It's amazing how their personalities change completely when they're broody. The only good thing, is we get to hold two of them that never let us pick them up. They get extra hugs when they go broody much to their dismay. :)
email
maitreya[@]craftlog[.]org
books I'm in
Pinterest
Categories
Blogroll
Archives
creative commons
craftlog is under a
Creative Commons
Attribution Noncommercial
license
. That means that you are all welcome to take and repost my photos, replicate my projects, remix my ideas, whatever you want as long as you give attribution (a link is fine) and it's noncommercial. Thanks!