Posted on July 11th, 2011 by maitreya. Filed under Home and Garden.
I somehow screwed up my trashcan potatoes and they all died last week.  I was optimistic that meant they were ready, even though they never flowered or anything.  So we dumped them all out on a tarp and got this totally underwhelming result.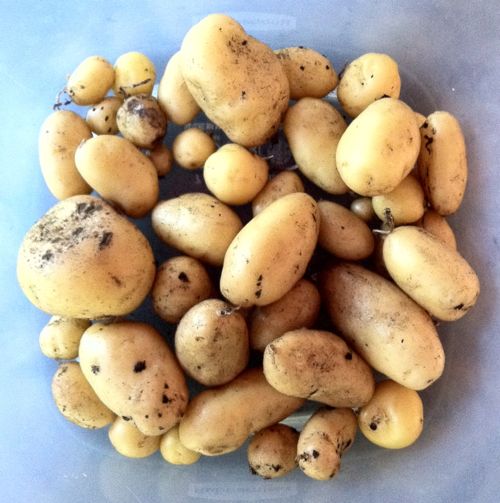 The photo is approximately real life sized.  These are teeny!  I think I wasn't watering them enough.  Oh well, better luck next year.
I roasted them with some olive oil, fancy salt, and pepper, and they were delicious.  Extremely creamy in a way you don't get from the grocery store.
4 Responses to "pathetic potato harvest"
email
maitreya[@]craftlog[.]org
books I'm in
Pinterest
Categories
Blogroll
Archives
creative commons
craftlog is under a
Creative Commons
Attribution Noncommercial
license
. That means that you are all welcome to take and repost my photos, replicate my projects, remix my ideas, whatever you want as long as you give attribution (a link is fine) and it's noncommercial. Thanks!