Posted on July 27th, 2011 by maitreya. Filed under Home and Garden.
Like I mentioned in my last post, Mark built me a fourth raised bed.  The other three are on the south side of the house in the parking strip (that bit of ground between the sidewalk and the road).  This one is on a kind of awkward little piece of dirt that is next to our driveway.  It's been divided about half lawn and half a bed of ornamental grasses, with some bulbs thrown in for lack of anything better to do with it.  We realized the other day that it gets great light, though.  The house blocks a little of the morning light, but it gets all sorts of afternoon exposure.  And bonus, no permit needed.
We designed this one to be a little bigger than the others since the spot was larger.  It's 8 feet by 4 feet, versus 6 feet by 3 feet on two of my others, plus the baby 3×3 herb bed.  It's made out of the same materials, though: cedar fence slats and wood stakes.  We use these fence slats for everything; they are cheap ($1.37 each) and nice to work with.  The old beds are holding up fabulously, too.  The slats are 6 feet long, so by chopping 2 feet off half of them, you can piece the 8 foot side and use the rest for the short ends.
The dirt was the most expensive part of the project.  If we had planned better, we probably could have come up with a better solution than bagged, but we really underestimated the volume required.  It's a mixture of composted steer and chicken manure, topsoil, peat, and a compost-based growing mix.  We also supplemented with my not-quite-finished compost.  I had three full wheelbarrows of mostly chicken bedding+manure, garden waste (not weeds), grass clippings, and the compost+straw from the failed potato bin experiment.  It was actually breaking down quite nicely, so it will only need do a little finishing at the bottom of the bed.  It's been a cold Seattle summer here anyway, so the plants might not mind some extra heat as they germinate anyway.
I am holding out hope that the winter garden will do a little better than this year's spring and summer garden.  Between the new bed and space that opened up in my other beds, I've got broccoli rabe, baby bok choy, kailaan (another Asian green), Chinese cabbage, collards, turnips, brussels sprouts, beets (three types), chard, carrots (three types), scallions, peas (two types), kale (two types), and broccoli.  And I reflexively sow more mesclun mix, arugula, radishes, and herbs any time I'm out planting.  I also left some space for a row of Walla Walla onions to be planted in August.  Garlic and scallions will replace the tomatoes later in the fall.  I'm a little late on a few of these, and a little early on others (according to my usual array of Pacific Northwest guides plus some winter garden specific resources [last 2 links PDF]), but it's such a weird summer that who knows.  I'll probably reseed in two weeks just to be sure.  I haven't totally given up on summer yet: today I also planted a purple basil start I found on sale at the Whole Foods.
In my other beds, I've been planting in blocks, using a sort of square foot gardening approach.  But last week I was walking home from lab and stopped in my tracks at these amazing raised beds down the street.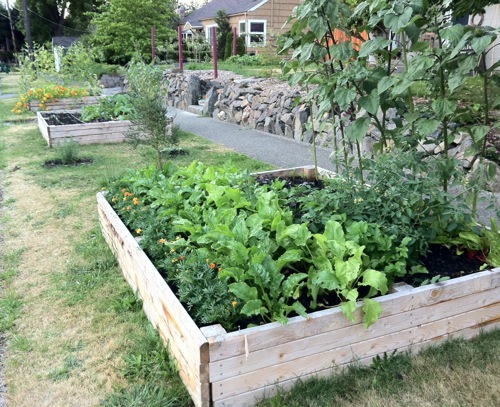 They are giant, and there are three of them, planted up with rows of tiered veggies and flowers spilling over (check out the nasturtiums in the furthest one).  I love the look of the rows, so now I have rows too :)
One Response to "winter vegetable garden bed"
email
maitreya[@]craftlog[.]org
books I'm in
Pinterest
Categories
Blogroll
Archives
creative commons
craftlog is under a
Creative Commons
Attribution Noncommercial
license
. That means that you are all welcome to take and repost my photos, replicate my projects, remix my ideas, whatever you want as long as you give attribution (a link is fine) and it's noncommercial. Thanks!