Posted on August 21st, 2011 by maitreya. Filed under Crafty Review, Home and Garden.
I've been kind of wanting to try canning, but have never gotten around to it.  This is in part because my imagined garden largess has never quite materialized as I expected, but also because it seemed a little intimidating.  My friend Rose gave me the perfect opportunity to just go for it by giving me some supplies and fruit, and telling me to just follow the directions on the pectin package.  Can't get easier than that, right?
I started with 2 jars of strawberry-raspberry jam, and then was emboldened to try pickles.  Since my poor cucumber seedlings were decimated by slugs this year, the cukes are from the farmers' market.  The stand guy said the variety is Jackson Supreme.  The garlic and dill seed are from my garden, though.  There's also a Walla Walla onion in the bread and butter pickles.  I accidentally made too little of the dill pickle brine and too much of the bread and butter pickles brine, so there's one jar of "hybrid" pickles.
Now I am hooked.  Next on the agenda is zucchini pickles.  Doesn't hurt that it gives me a chance to use my collection of pretty labels.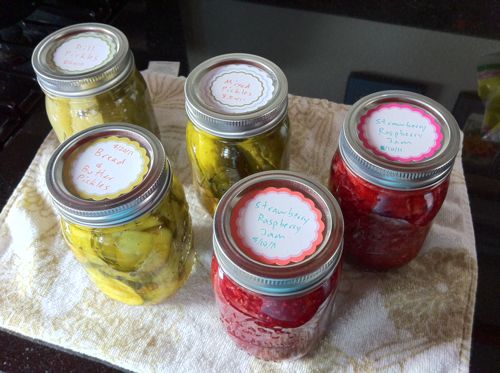 My new favorite blog is Food in Jars.  Any others I should be following?
In addition to the pectin package instructions, I also consulted Canning & Preserving with Ashley English, which I bought as a pair with her chicken book, and Put 'em Up by Sherri Brooks Vinton, which I got from the library.  Both of them had really good introductions to the methods, including lots of nice pictures and drawings.  And basic was what I needed: I got a can lifter on sale after nearly scalding myself using normal tongs with the jam, and I wasn't entirely sure which end was handles, nor how to use them to pour out the water from the bath.  Put 'em Up has more varied recipes, I'd say, so I will probably end up buying it.
4 Responses to "adventures in canning"
email
maitreya[@]craftlog[.]org
books I'm in
Pinterest
Categories
Blogroll
Archives
creative commons
craftlog is under a
Creative Commons
Attribution Noncommercial
license
. That means that you are all welcome to take and repost my photos, replicate my projects, remix my ideas, whatever you want as long as you give attribution (a link is fine) and it's noncommercial. Thanks!